Posted on 17/08/2014 by ozzy in Summers-ish, The Blog
I have been The Police fan since 80s, always wanting to own a Telecaster, but the original Andy Summers Tribute Telecaster costs more than my car, ...sadly. Well, it was only natural that I started a project called the PMASTTSO -- Poor Man's Andy Summers Tribute Telecaster Sort Of.
I based my project on a Squier Classic Vibe Telecaster Custom, an inexpensive, good sound, good look guitar crafted in China. If I wanted to stay within my budget I didn't have many other choices here, especially as Fender doesn't produce double-bound sunburst Teles in Mexico. This guitar was actually quite a good deal worth every penny spent, so all is good, and no problem so far. Perhaps its weakest point is the bridge and saddles. The pickups are OK, allegedly Toneriders.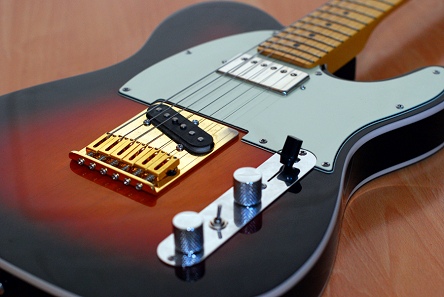 My mods:
Bridge > Gotoh HW40G, 3 mm brass plate with Strat style brass saddles.
Tuners > Fender Vintage (MIJ) - more reliable than stock MICs
Bridge pickup > Fender 62 Tele Custom
Neck pickup > Hand-wound copy of Gibson PAF - beautiful pickup with a smooth tone
Maple neck > The original rosewood neck was replaced with a maple neck from my Squier Cabronita Telecaster.
Phase switch
Mint green pickguard
Pros:
not exactly the Andy Summers tone, but nice tone of its own
nice binging
Cons:
cheap-looking glossy finish
still a bit expensive for the budget guitar from China
there was a wrongly drilled hole on the stock saddle where the wrench goes, so I couldn't get the action on the E string adjusted properly
Posted in Summers-ish, The Blog  |  Please leave your comment